School Meals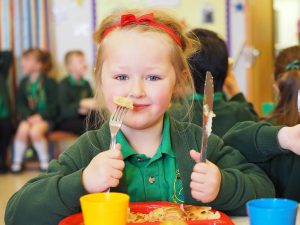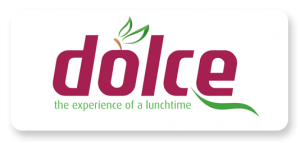 School Meals
At Riverside, our chosen meal provider is Dolce. Dolce is a family run schools catering provider with a passion for delivering good healthy food with the best customer care.
We offer exciting new menus each term which are cooked fresh from raw ingredients and allow parents and pupils to pre-order from home, on the move or in the classroom.
We aim to make lunchtime an enjoyable experience for every child. Using a touch screen, children select their names at the hot plate, displaying their meal choice to both the cook and child, along with any allergies or dietary requirements. Our system helps the cook get to know each child on a first name basis, making them feel welcome at the lunch counter.
Children can bring their own packed lunches. They are eaten alongside the children taking cooked meals in the hall. We ask that food is transported in plastic containers and for safety reasons, we do not allow hot liquids in flasks. As part of our healthy school programme, we also ask that children do not bring chocolate or fizzy drinks.
Children in the Foundation Stage and Key Stage 1 receive a free piece of fruit or vegetable and have access to free bagels each day as part of the government's national scheme.
Pre-Ordering
We want you to know everything there is to know about our menus. That is why we use SchoolGrid, the award winning online pre-ordering system. Here you can see what's on offer across the whole term, including any special theme days which run throughout the academic year! You can order flexibly, either day by day or up to a full term in advance. To help make an informed choice for your child, we provide the full ingredients list, recipe card and nutritional breakdown for each dish.
Allergens
The sophisticated allergen blocking system prevents you and your child from ordering any unsafe meal options. All you need to do is tick which of the allergens apply and let the system take care of the rest.
Prices
The cost of a school dinner is currently £2.60 per meal for pupils in Year 3, Year 4, Year 5 and Year 6.
Children with 30 hours nursery provision, meals will cost £2.17 per day.
---
Universal Infant School Meals – Key Stage One Pupils
As you are aware schools meals for reception class, year 1 and year 2 are paid for through a government grant and enable those pupils to have a balanced meal at lunch time. We encourage parents to order from home with their children on the School Grid site so that you are part of the lunch time choice.  If you do not want your child to have a school meal a healthy packed lunch is permitted.
---
Means Tested Free School Meals
It remains vitally important that all parents who qualify for a traditional 'Free School Meal' under the current benefits criteria, continue to register with Gateshead Council's Benefit Service, even if your child is in Reception, Year 1 or Year 2 and receiving a 'Universal Infant School Meal'.
For every valid application submitted, our school receives valuable funding towards resources which will contribute to your child's education and you could receive supermarket food vouchers during the school holidays.
If you believe your family are entitled to a  'Free School Meal' please complete an application form online here: Free School Meals – Apply Online.
For more information on 'Free School Meals' please contact the Benefits Service on 0191 433 3729 or visit www.gateshead.gov.uk.
Pre-order Your Child's Meal
Click the image below to login into School Grid!