13 Mar

Forest Schools – We Need Your Help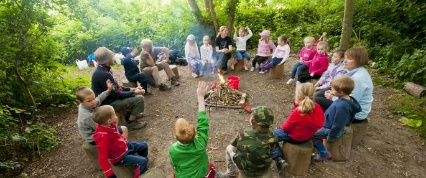 At Riverside Primary Academy, we are always looking for new ways to improve and enrich our curriculum.  We wanted to let you know about our exciting new initiative, Forest Schools.
What is Forest Schools?
Forest School is an inspirational programme that offers our children regular opportunities to appreciate and enjoy their local woodlands. We aim to nurture an understanding and respect for natural places. Children experience nature at first hand through a series of engaging and achievable tasks. The Forest School experience brings learning to life and improves a child's ability to work co-operatively whilst offering them opportunities to take risks, make choices and initiate learning. It is proven to improve children's confidence, self-esteem and communication skills, as well as giving them an opportunity to have lots of fun! The children also develop skills in team work, using tools safely and learning about looking after our environment.  For more info visit http://www.forestschoolassociation.org/what-is-forest-school/
What sort of activities will we do?
Fire activities
Storytelling (around our fire circle)
Natural art activities
Learn how to use tools safely
Exploring, nature watching and bug hunting
Planting and pruning
Practical woodland skills
Building dens
Time to be quiet, reflect or talk
All activities will be linked to our Creative Curriculum
How Can You Help?
In order to start Forest Schools, we need a HUGE list of resources and wondered if any parents or carers could help?  Do you work for a company who could sponsor the school or who could possibly offer some items from the list below?
What we need…
20 ft metal shipping container
10 x Tarpaulins
30 x all in 1 waterproofs
30 x pairs of wellies
Fire wok or Kelly Kettle
Tools  x  30 of each;
Loppers, secateurs, sheath knife, whetstone, protective gloves, tool box, bow saw, billhook, mallet, hacksaw, hand-drill and bits.
Rope, twine, string, sisal, twine.
Binoculars x 30
Magnifiers x 30
The list above is not the full list please ask if you think you have other things to offer!
Mrs Judge is currently attending a year-long course in order to be a qualified Forest School Leader and is working in conjunction with Mrs Gordon to set up Forest Schools at our school so if you have any questions please speak to either of them.